Whether you're in the car, cleaning the house, or on a run, podcasts can make the time pass, while you're being entertained and enlightened.
Here are our favorite podcasts we're listening to right now:
Talking with Authors is a bi-weekly podcast with best-selling authors, spanning genres, topics, and ideas. Usually the episodes are pretty topical, and feature writers such as Judy Blume, Karen Slaughter, and Eric Larson, to celebrities who have happened to write a book, like Nick Offerman and Jenna Fischer.
Decomposed with Jade Simmons
Decomposed breaks down the stories that have shaped classical music, from secrets and scandals to acts of sheer genius. Hear these stories accompanied by the symphonies, operas and other masterpieces they inspired. Hosted by Jade Simmons, a classical concert pianist and storyteller, the first season of Decomposed takes on gender expectations, Cold War propaganda and the danger of putting your personal life on the stage. Produced in partnership with Classical Minnesota Public Radio.
Tell Them, I Am
Tell Them, I Am is about the small moments that define who we are and who we are not. The stories are universal. The voices are all Muslim. With a new episode every weekday this Ramadan, host Misha Euceph opens a window into the lives of Tan France, Alia Shawkat, Ramy Youssef, Reza Aslan, Mercedes Iman Diamond and others.
Against the Rules with Michael Lewis
Journalist and bestselling author Michael Lewis (Liar's Poker, Moneyball) takes a searing look at what's happened to fairness—in financial markets, newsrooms, basketball games, courts of law, and much more. And he asks what's happening to a world where everyone loves to hate the referee.
Safe for Work
Life at work can be funny, challenging, ridiculous, and — yes, even satisfying. Safe For Work is all about helping you find balance and happiness in your career. After all, many of us spend more time with our co-workers and clients than with our friends and family. Hosts Liz Dolan and Rico Gagliano give advice on everything from how to avoid burnout on the job to how to fake an illness when you're calling in sick. They also talk to experts about those moments at the office that can challenge the best of us: negotiating raises, knowing when it's time to move on…or dealing with that annoying office mate with no boundaries.
The Shrink Next Door
Veteran journalist Joe Nocera's neighbor in the Hamptons was a therapist named Ike. Ike counted celebrities and Manhattan elites as his patients. He'd host star-studded parties at his eccentric vacation house. But one summer, Joe discovered that Ike was gone and everything he'd thought he'd known about his neighbor — and the house next door — was wrong.
White Lies
In 1965, Rev. James Reeb was murdered in Selma, Alabama. Three men were tried and acquitted, but no one was ever held to account. Fifty years later, two journalists from Alabama return to the city where it happened, expose the lies that kept the murder from being solved and uncover a story about guilt and memory that says as much about America today as it does about the past.
Cold
Warning: This story doesn't end well. Susan Powell vanished on Dec. 7, 2009. Her body has never been found. From the beginning, West Valley City, Utah police suspected Susan's husband, Josh Powell, had murdered her. They never arrested him. COLD dives deep into the case files, uncovering never-before-heard details. You'll learn why Susan stayed with an abusive husband, why Josh did what he did, and how the justice system failed Susan and her two boys.
Bossed Up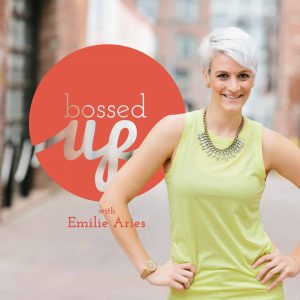 Are you ready to step up as the boss of your life? Emilie Aries breaks down career conundrums with expert interviews to help women navigate career transition and step up as the boss of their careers. Whether you're in the job search, starting a side hustle, climbing a corporate ladder, or an experienced entrepreneur, join Bossed Up's community of courageous women who lift as they climb.
Conan O'Brien Needs a Friend
After 25 years at the Late Night desk, Conan realized that the only people at his holiday party are the men and women who work for him. Over the years and despite thousands of interviews, Conan has never made a real and lasting friendship with any of his celebrity guests. So, he started a podcast to do just that. Deeper, unboundedly playful, and free from FCC regulations, Conan O'Brien Needs a Friend is a weekly opportunity for Conan to hang out with the people he enjoys most and perhaps find some real friendship along the way.