By Kerry Marks
"Art in Bloom" once again returns to the Saint Louis Art Museum this weekend, where despite the current icy landscape outside, floral artists from all over the region attempt to summon spring by creating colorful arrangements, each based on a piece of art.
Florists have created thirty pieces scattered throughout the museum. Official judges, staff, and visitors to the museum rate the works, but it's a friendly competition with more emphasis on community than any prizes at the end.
"It's fun being challenged, but I truly enjoy the collaboration involved with it. It's energizing to me," said Dean Riebeling of Botanicals Design Studio.
Riebeling has been participating in "Art in Bloom" for more than a decade.
Each year participants gather in January for a lottery that determines their inspiration for the competition, giving them around two months to create their masterpieces. This year, Riebeling drew a Navajo Chief-Style Blanket from around 1880 made of wool that was recently donated to the museum.
"My initial knee-jerk reaction was that I can see a horizontal structure wrapped in black yarn with flowers and that it's going to be a mechanical nightmare," he said with a hearty laugh. What struck him the most about the blanket was the bold color. "I was amazed at the brilliance of the red, even after all these years."
In his interpretation, Riebeling has deconstructed the artwork with white vertical columns made of wood and wrapped in yarn pieces he knit himself. Black horizontal pieces hold red heart roses, red Hypericum berry, red spray roses, and red spray dianthus. Large chunks of selenite crystal hang from each layer. The arrangement reflects both the structures and shades present in the Chief-Style blanket.
"It's like music. Everybody experiences a different thing every time. Flowers have their own life. I'm just a facilitator," said Elisheva Heit from Flamenco Flowers & Sweets.
This is her third year taking part in "Art in Bloom" and for her, the challenge of representing art with flowers "can't get any more inspiring."
"The first year I had an out of body experience. It felt like I died and went to heaven. I feel more earthly now," she said, vibrant in her enthusiasm.
This year, Heit received "Camaret, Moonlight and Fishing Boats" for her inspiration piece. It's a French painting by Maximilien Luce, which depicts a field of boats at night.
Heit was struck by the "dreaminess of the piece" and the pointillism Luce used to create the work. In her piece, Heit weaves a tapestry of different shades of blue created from blue hydrangea, delphinium, muscari, anemonies, mini calla lilies, and eryngium, which reflect both the texture of the painting and the symmetry of the boats floating serenely in moonlight. Her favorite part of the festival is watching other florists at work on their own pieces. "There is no limit to anybody's imagination," she said.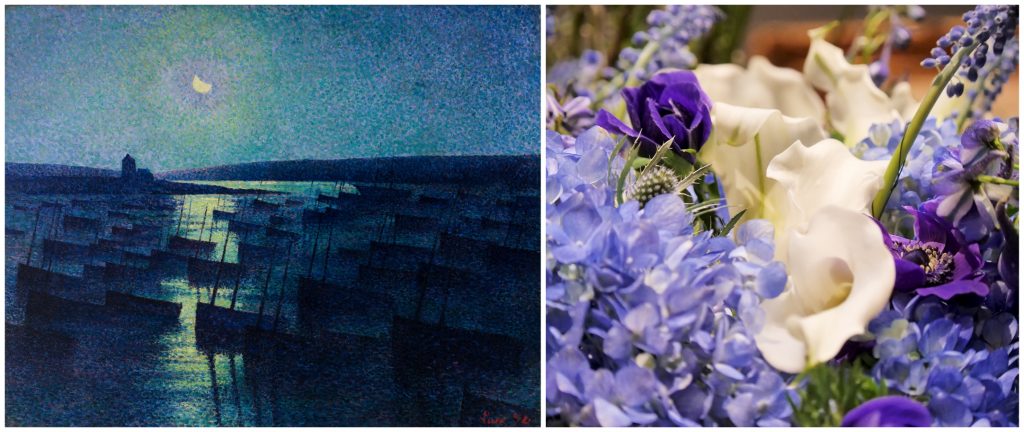 "It makes you feel good about what you do," Kimberly Vermillion said.
She's a third generation florist from Everflora, who grew up arranging flowers. The artwork she drew from the lottery this year is "Summer Scene with Solitary Duck amidst Rose Mallow and River Reeds". It's a painting created at the beginning of the 20th century by Komuro Suiun on a hanging silk scroll.
"Thank goodness I got a painting for once," she said. In the past, Vermillion has worked from everything from swords to a relic arm. "I wanted to imagine my piece looking like a river bed," she said.
Choosing the perfect vessel proved to be the most difficult part for her, which ended up being an oblong wooden bowl reminiscent of a small boat and filled with smooth river rocks, steel grass
bamboo,
 Australian umbrella fern, holly fern,
 fiddle heads,
 pink quince,
 pink lisianthus, and pink ranunculus.
"Art in Bloom" begins Friday, March 1 at the Saint Louis Art Museum.
The festival features lectures, hands-on activities, and live music. The event is free, however lectures in the Farrell Auditorium require a paid ticket. On Sunday, March 3, the museum will host activities specially designed for children and families, including a scavenger hunt inspired by nature. For more information on how you can enjoy this early spring event, go to www.slam.org.
Watch last year's event, here: https://youtu.be/ZwrBK6Q_wH4